Celebration of Smiles Fundraiser
Saturday, April 21, 2012
10:00 am - 5:00 pm
Local Connections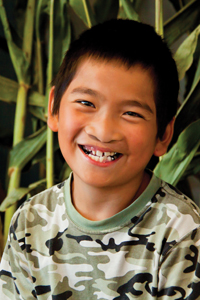 Our Celebration of Smiles Fundraiser is raising funds for Operation Smile. Operation Smile performs surgeries to repair cleft lips, cleft palates and other facial deformities.
6 years ago, my parents adopted a 5 year old boy, Tyler, from China. Tyler was given up for adoption at only a couple days old because he had a cleft lip and cleft palate. Although we don't know when his lip was fixed, we do know that it was fixed in the earliest pictures we have of him when he was 2 or 3 years old. We also do not know who did the surgery, but this is the type of thing that Operation Smile does.
Tyler is currently a 4th grader at Falls City Public Schools. He's active in most sports, 4-H and cub scouts when the cub scouts is active.
If you know of anyone else in the area who has had a cleft lip, cleft palate or other facial deformity who would like to get their story out, please have them or their parents contact us and we will include their information for this fundraiser.